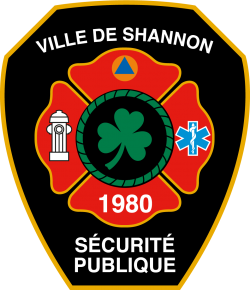 The Shannon public safety department serves a population of 6 645 inhabitants1 and covers an area of 65 km2. Its mission is to protect people, property and the environment from fire, provide emergency pre-hospital services (first responder) and respond to various emergencies that require specialized resources such as extrication and medical evacuation in hard-to-reach areas. 1 Institut de la statistique du Québec 2022
The service has mutual assistance agreements with the municipality of Saint-Gabriel-de-Valcartier, the City of Sainte-Catherine-de-la-Jacques-Cartier and Valcartier Garrison.
The department has 36 on-call part-time firefighters, including 1 director, 1 assistant director, 4 captains, 4 lieutenants, 1 first-responder, 1 fire prevention technician and 24 firefighters-first-responders.
Contact
Nicolas Proulx
Deputy Director 
Émile Mc Carthy, GSI, GDO, TPI
Public Safety Director
50, Saint-Patrick Street
Shannon (Québec) G3S 0A1
Fire Station Telephone : 418 844-3778
Email : securitepublique@shannon.ca
Emergency : 911
Join the public safety department
The Shannon public safety department is made up of dedicated, professional and well-trained part-time firefighters. This team is always looking for rewarding experiences, new challenges and ways to proudly serve its community. Firefighters do all of this in a healthy and pleasant work environment. The fire department advocates for transparency in its actions and cohesion among group members. It rigorously applies the Code of Ethics and Conduct of Elected Municipal Officers and treats its personnel with respect, integrity and civility.
If you would like to serve your community and take part in our vision, you could be the right person to join our team.
We need part-time firefighters and medical first responders (courses accredited by the École nationale des pompiers du Québec, delivered by qualified instructors).
For more information, questions or to fill out a membership form, please contact the municipal administration at 418 844-3778 or go to the City Hall at 50, Saint-Patrick Street, during normal business hours.
If your application is accepted, you will be contacted for an initial selection meeting with management.