The circuit serving Shannon offers a connection with the RTC network to increase your destination possibilities.
PUBLIC TRANSIT GOES INTO SUMMER MODE (TCJC)
28/06/2023 – As of July 3, the La Jacques-Cartier public transport (TCJC) will switch to summer mode. At the same time, the TCJC offers free access to its entire network throughout the summer, i.e. for the months of July and August.
Another expected stop
Shannon users will now be able to easily reach the Val-Bélair sector or the RTC with the new stop north of Pie-XI. An expected and permanent addition that will certainly make many happy.
More departures to Quebec
With this summer schedule, the citizens of La Jacques-Cartier will be able to take advantage of more trips to and from Quebec. They will also have better access to a multitude of destinations. Indeed, the schedule and routes will be modified on most circuits in order to promote interconnection with the RTC network. All routes will lead to a Metrobus and other routes.
Free all summer
For the months of July and August, access to the entire network will be completely free. There will only be the passage on the RTC network to be procured. This is a great way to integrate public transit into your travel habits. Especially since access will still be free when we return to class next August.
Back to regular schedule as of August 19.
Easier travel within the MRC
The route serving Stoneham-et-Tewkesbury and Lac-Delage will now loop to the Terminus de la Faune. By doing so, a direct connection will now be possible between Stoneham-et-Tewkesbury, Lac-Delage and Lac-Beauport. Good news especially for teenagers and their parents, who will be able to visit their friends by bus.
For all the details on the new schedule, visit tcjacquescartier.com.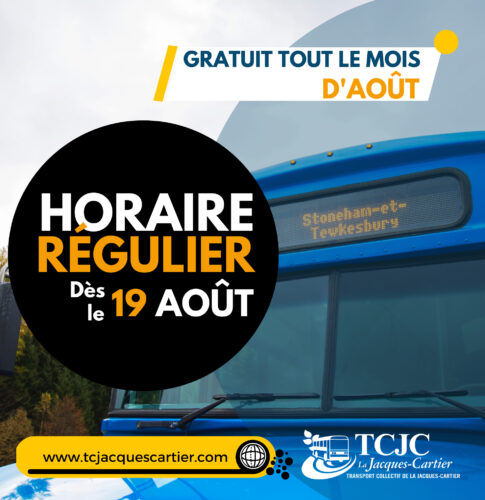 From Monday to Friday, with the exception of holidays
Only the stops identified in this schedule guide are served.
To circulate on both networks
→ Get a monthly metropolitan pass to save money.
→ For occasional use, you will have to pay a simple passage on both networks.
Points of sale
MRC de La Jacques-Cartier – (title of TCJC only)
60, Saint-Patrick Street
Shannon, Quebec G3S 1P8
Esso – (Metropolitan title only)
605, Jacques-Cartier Boulevard
Shannon, Quebec G0A 4N0
For information about the service, visit tcjacquescartier.com. (French only)