The Local Heritage Council was formed in 2014 and its mandate was to promote, protect and preserve our Irish culture, heritage and history of Shannon. 
The committee is presently composed of the following :  Councilwoman Lynn Chiasson, Mike-James Noonan, Dale Feeney, Larry Hamilton, Deborah Kiley, Rob Landrigan, late Terrence Neville and secretary, Pauline Montreuil.  Some of the past members have been: Leonard Conway, Jimmy Kelly, Lucie Laperle, Pauline McCarthy, the late Gerry Neville and the late Theresa King. 
DISCOVER THE HISTORY OF SHANNON
Highlighting the 200th anniversary of the arrival of our Irish ancestors to Shannon, we invite citizens to discover the history of Shannon using the historical chronicles available on this page.
Have a good read!
DISCOVER THE HISTORICAL TOUR OF SHANNON VIA THE MOBILE BALADODISCOVERY APPLICATION
Learn more about Shannon's history with the mobile BaladoDiscovery?
What is a BaladoDiscovery?
It is a mobile application that, using GPS, guides and informs visitors as they move from place to place with their smart phone or tablet. The application allows capsules containing audio tapes and historical images to be downloaded in advance in order to consult them at any time, offline, anywhere and at any time, without a Wi-Fi connection.
The brand new BaladoDiscovery of Shannon allows users to discover the historical richness of our City including the beginnings of the wooden railway, the Irish roots of the City, the old schools, the history of the chapel as well as the bridges of Shannon and its ferries. Starting from the caboose, located near the Vélopiste Jacques-Cartier/Portneuf, the route will take participants to the two bridges on Gosford Road.
This 4 kilometer loop circuit is designed to be covered by walk or by bicycle. Each of the points of interest is told in order to highlight interesting facts specific to each one. Content can be viewed onsite or at the comfort of one's home.
BaladoDiscovery is offered free of charge to iPhone and iPad users as well as Android tablet and phone users.
This project was made possible thanks to the financial participation of Mr. Éric Caire, Deputy for La Peltrie, Minister of Cybersecurity and Digital as well as Minister responsible for Access to information and the Protection of personal information as well as Mr. Joël Godin, MP for Portneuf—Jacques-Cartier, Quebec.
Shannon's BaladoDiscovery can be downloaded from the FOLLOWING LINK 
With the financial support :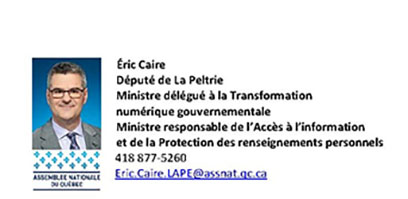 ---
Documents to download